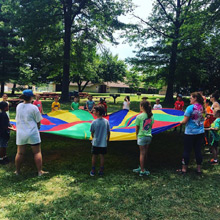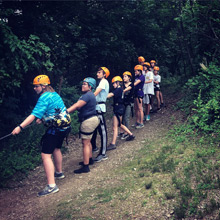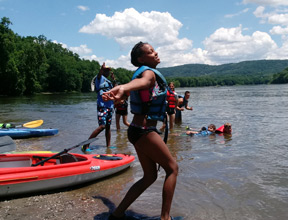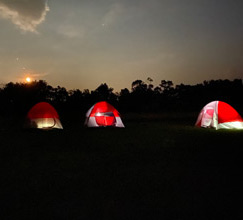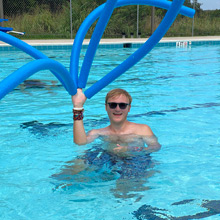 ---
Summer Camp at Claggett

The Claggett Center offers week-long, residential, camp programs for youth completing 2nd grade to recently-graduated high school seniors. Whether climbing high on the ropes course or diving deep at the pool, there's something for everyone here at Claggett. From adventures on the Monocacy River and Sugarloaf Mountain, to swimming, games, campfires and classic skits, campers are sure to create new friendships and renew old ones year after year.
Summer Camps at Claggett are Christian formation ministries of the Episcopal Dioceses of Maryland and Washington. Camp is grounded in Scripture and tradition, and encourages campers and staff to use their whole selves as ways to explore the Christian Story. Each week a chaplain participates in all camp activities, and supports the ministry of camp through prayer, participation and spiritual direction.


Registration for summer 2023 opens
December 1

!


Para registrarse en Español, haz click aquí.

Health and Safety in 2023
COVID-19 will still be a reality in summer 2023. In order to prioritize the safety of campers and staff, every member of the community will be asked to make sacrifices of personal preference and comfort. Staff will be asked to sign a covenant agreeing to abide by and create a culture of safety which may include measures such as: social distancing in and outside of camp property, masking, limiting contact as directed by our supervising physician and health team. As of May 2021, all Claggett staff and volunteers are required to be fully vaccinated against COVID-19.


2023 Camp Sessions:
Senior High Camp [Grades completed: 9-12]: June 18-23
Middle School Camp [Grades completed: 6-8]: June 25-30
Family Camp [For families of all ages, shapes, and sizes!]: July 5-8
Youth Camp [Grades completed 2-5]: July 9-14
Adventure Camp [Grades completed: 4-8, special focus on outdoor skills and activities]: July 16-21
Camp Spirit Song [For youth grades 4-8 impacted by a family member's opioid substance abuse]: July 30- August 4
Thank you for your support of our Summer Camp programs! We welcome your support of our campers in need by making a donation to the camp scholarship fund.


Summer Camp Rates:
Claggett Camps are adopting a "Tiered Pricing" system! Tiered pricing allows families to choose a contribution according to their ability. Each pricing tier entitles the camper to a full Claggett experience and there is no differentiation made in the program based on pricing tier. We are excited to introduce the tiered pricing model as a tool to extend our reach, create a diverse, Christ-centered community, and grow Claggett's camp ministries for many years into the future.
Tiered pricing helps to make a quality camp experience possible for children from all economic backgrounds, by allowing families to pay what they are able and inviting those who can give more to support the bigger picture of camp operations to do so. It allows us to stretch scholarship funding further, bringing more young people the opportunity to have a life-changing week at Claggett.

Pricing for 2023 Youth Camps is as follows:
Subsidized rate: $450

This is the historical subsidized rate of summer camp, made possible by Claggett's operating fund and contributions from individual and group donors who believe in the mission of summer camp. This rate represents costs of lodging, meals, and a portion of program costs.
Direct Cost rate: $550

The direct cost rate more closely represents the cost of operating camp for the week of a camper's experience, including lodging, meals, staffing, and materials.
True Cost rate: $650

The true cost rate more closely represents the total financial cost of operating camp, including all listed under direct costs as well as maintenance, insurance, utilities, and more.
A minimum non-refundable deposit of $100 is required to hold your space in the program. Because of the additional cost of materials, a $150 non-refundable deposit is required for Adventure Camp. Please see our
payments page
for details or contact
Rosie Alger
with questions.

Discounts and Scholarships:
Our mission is that no child would be unable to participate in Claggett camps due to financial need. Scholarships are available for all camps using a simple scholarship request form.
Discounts available for multiple children from the same family. These are automatically applied in online registration.
Episcopal Clergy and Diocesan Staff Members are eligible for discounted camp registration. Contact Programs Administrator, Rosie Alger, for more information about scholarships and discounts: ralger@claggettcenter.org.

Pricing for 2023 Family Camp is as follows:
Powell Hall and Cottages: Stay together in summer camp central! Each family will have exclusive use of a dormitory and bathroom, or the appropriate number of double cottage rooms and a bathroom shared by family members.
First two campers (of any age): $900
Each additional camper: $125
Christiane Inn: Limited double rooms are available in the Christiane Inn. Includes private ensuite bathroom and linen service.
First two campers (of any age): $1250
Each additional camper: $125

Inclusion at Camp
We believe that summer camp has the power to change lives, through even one week in a community that loves and supports one another unconditionally. Further, we believe that these life-changing camp experiences are for campers and staff members of every race, socioeconomic status, sexual orientation, gender identity, and background. We believe that every person is created in the image of God, exactly as they are, with experiences and perspectives that are precious to God.

Click here for our full inclusion statement.
---
Camp Spirit Song is offered in partnership with the SpiritWorks Foundation to give the gift of a camp experience to children in Province III (Maryland, Pennsylvania, Delaware, Virginia, Washington, DC and West Virginia) affected by the opioid substance use disorder of a parent or other close loved one. This is the second year of Camp Spirit Song, and the first camp program of its kind on the east coast.
Whether you're a returning camper or curious to learn more about camp, the Winter Retreat offers an opportunity to connect and take part in many favorite parts of the summer program: small-group sessions to learn about addiction and recovery, outdoor fun, and tons of silly camp games and crafts!
This year, caregivers are invited to stay at Claggett during the retreat! We'll have activities for the whole family to participate in together, as well as sessions especially for adults from the SpiritWorks Foundation and Maryland Coalition for Families. Connect with other family members and caregivers of young people affected by addiction, and enjoy some time to relax and care for yourself!
Children grades 4-8 will stay in camp dorms supervised by counselors and participate in the camp program for the weekend--a caregiver is not required to attend with them. All ages will share meals and some activities. Younger children may attend under the supervision as a parent or guardian, who is responsible for them at all times.
Each day, campers gather for Small Group sessions led by experienced counselors from Spiritworks Foundation for the Soul, an organization that specializes in addiction services and recovery for families affected by addiction.
Campers learn the "Seven C's" of a family member's addiction: "I didn't cause it, I can't cure it, I can't control… Learn More

---