Would you love to enjoy a retreat with your church community, but don't have the capacity to organize one for your parish alone? Gather with other small-but-mighty churches for a classic parish retreat. Join together for worship and fellowship, while growing closer to your faith community in small groups.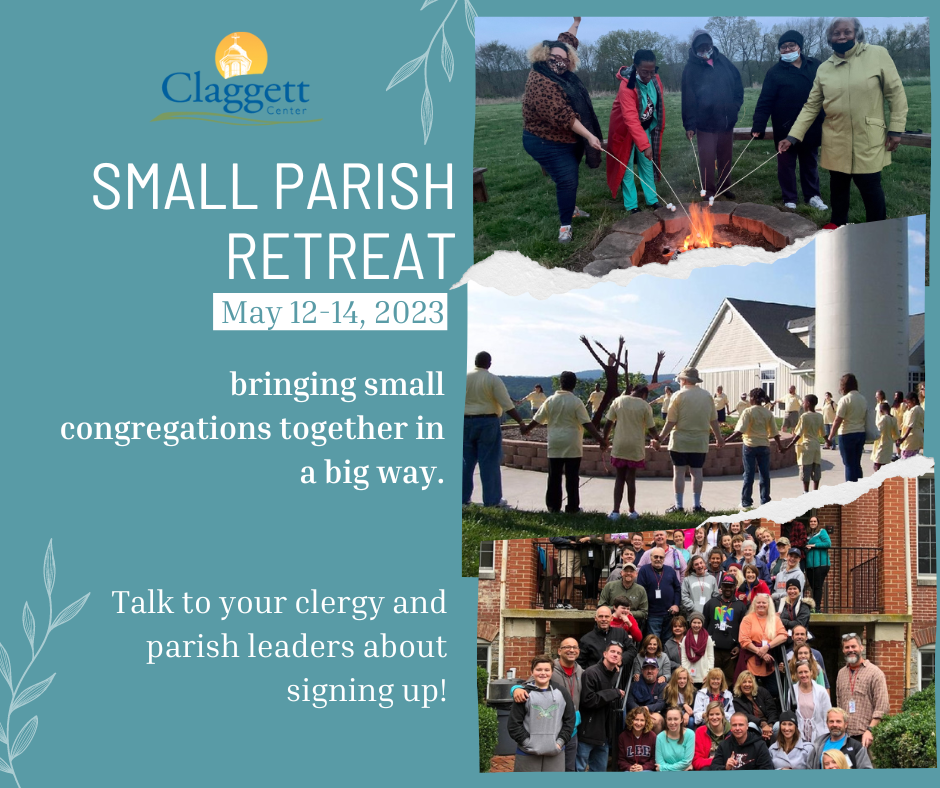 Clergy and parish leaders: contact us if this might fit your parish!

Email Rita Yoe to find out how to get your congregation involved in this opportunity.

Learn More
---
The Claggett Center Board of Trustees is engaged currently in refreshing our strategic vision and master plan of the campus. As part of that process, a design charrette has been planned for Saturday, June 3, 2023 from 10 am to noon.
Charrettes are collaborative decision-making processes that foster outside-the-box outcomes by fueling individual creativity through group engagement. As Claggett imagines its future and the impact on the physical campus, your creative participation and perspective would be most welcomed. The exercise will be led by Canon Scott Slater whose undergraduate degree is in Landscape Architecture.
Schedule:
10:00 a.m. Intros, orientation, overview
10:15 a.m. Observational walk of campus, beginning at Welcome Center, pool, pavilion, through first floor of Powell out Buckingham, back side of barn (seeing Doll, Rosemary's Porch, small dining room
11:00 a.m. Interactive charette
brainstorm observed elements from tour (good and bad), including outlying areas (trails, ropes course, slave gravesite, river)
create/write concept map of campus
integrate 1 and 2 onto actual map of campus, add buildings, paths, elements.
12:00 p.m. Lunch & Adjourn
If you wish to arrive on Friday evening, you may book lodging and meals for a fee:
$162 Christiane Inn Single Occupancy, includes Friday dinner & Saturday Breakfast
$116 Christiane Inn Double Occupancy, includes Friday dinner & Saturday Breakfast
Learn More
---
Spend time together splashing in the pool, flying down the zipline, and growing together with family-based faith formation. Families of all shapes, sizes, and ages are welcome; children must be accompanied by an adult.
PRICING
Powell Hall and cottages - First two campers (of any age) $900, each additional camper $125
Christiane Inn - First two campers (of any age) $1250, each additional camper $125
Click
here
to register.
Follow
Camps at Claggett
on Facebook for the latest news and information.
Learn More
---
Claggett Center offers a five-day, four-night summer camp program for high-functioning adults with intellectual disabilities. This unique program provides campers and opportunity to forge new friendships, grow spiritually, learn new skills, and have a relaxing vacation. Claggett Center facilities provide shared sleeping rooms and bathrooms, most with air-conditioning, hearty home-cooked meals, and 268 acres of land overlooking Sugarloaf Mountain to enjoy. Everyone looks forward to coming to Claggett each year!
Staffed by volunteers, Special Challenge Camp is for adults 21 and older. While the staff does not offer one-on-one supervision, there is group oversight, and plenty of activities to appeal to a wide-range of tastes and abilities. Activities include arts and crafts, swimming, fishing, canoeing, nature hikes, a trip to the ropes course, campfire, daily chapel, bead working, woodworking, a talent show, and a "formal" dance with a DJ.
Visit the
Special Challenge Camp page
for more info.
Download the Special Challenge Registration form here! You can also click here to register online.
Learn More
---