Part-Time Positions
Housekeeper:
The Housekeeper is part of a team, led by the Housekeeping Director, that takes primary responsibility to ensure that all of the guest spaces are kept clean. Housekeepers perform a variety of housekeeping services to maintain clean guest rooms according to established standards.
Hours: Hours are variable, depending fully on guest schedules. The work will be a combination of midweek and weekend shifts. Shifts are typically 7:00 AM - 3:00 PM or 10:00 AM - 4:00 PM but vary some from week to week.
Compensation: Starting at $14hr - Hourly Rate is commensurate with experience, particularly commercial cleaning, janitorial, or housekeeping job experience.
Position Requirements:
Hold high standards in cleanliness of various spaces.
Work either in a team or independently.
Bend, lift, reach, push, carry and sustain repetitive motions.
Stand, walk, climb steps and work on their feet for extended periods of time.
Work efficiently, moving from one task to the next with minimal wasted effort.
Work with cleaning chemicals.
Exhibit a friendly and hospitable attitude to all guests and staff, even when tired.
Follow instructions and yet be able to assess the situation and discern what is needed.
Pass a criminal background check.
Needs reliable transportation.
Comfortable working in a faith-based community.
Approach work with a flexible attitude. Have an ability to switch tasks with changing demands without experiencing undue stress or frustration.
Must be self-motivated and punctual.
Perform other reasonable job duties as requested by supervisor.
Have the ability to understand and speak English at a level which allows the safe, efficient performance of the job.
Contact
Elsie Horn
for more information.
Cook: The candidate must be proficient in all around cooking skills, including, but not limited to: saute, frying, baking, roasting, braising, competent and safe knife skills, cleanliness, following recipes, creativity. The Cook is primarily responsible for food preparation and execution of meals served in the dining facility in accordance with standards set by the Chef. In addition, the Cook will assume a leadership role by directing other staff members in the absence of the Chef. They will ensure that sufficient quantities of quality menu items are prepared in a timely manner in accordance with the meal schedule. Some food service experience is preferred. We are willing to train someone with a positive attitude and good work ethic. If interested in applying for the position, please send resume to Chef Thomas.
Food Service Attendant:
Assists in the preparation of foods by chopping, washing, cutting, assembling, and mixing food stuffs for cook; oversees line to make ceratin all items are replenished appropriately; washes and sanitizes dishes and utensils; cleans the dining area and replenishes napkins, utensils, and other necessities. Contact
Chef Thomas
for more information.
Volunteer Positions

Welcome Center Greeter:
The Claggett Center is looking for individuals who are interested in meeting people, making new friends, sharing the hospitality of the Claggett Center, and enriching their life through volunteer experiences.
Greeter Duties:
Welcome visitors to the Claggett Center.
Greet every individual with a smile and provide excellent customer service.
Enhance customer relations by greeting and acknowledging guests.
Be knowledgeable about the activities, programs, and services offered at the Claggett Center.
Answer general questions.
Assist with answering phones.
Qualifications:
Must have excellent interpersonal skills, a positive personality, and friendly demeanor.
Must be able to approach and welcome all visitors and guests.
Exceptional customer service experience is preferred.
Time commitment:
Shifts are available Monday-Friday between 8:30 a.m. and 4:30 p.m.
Shifts are approximately 2-4 hours long depending on availability.
If interested in becoming apart of our team, please contact Suzi Warfield at 301-874-5147 ext.101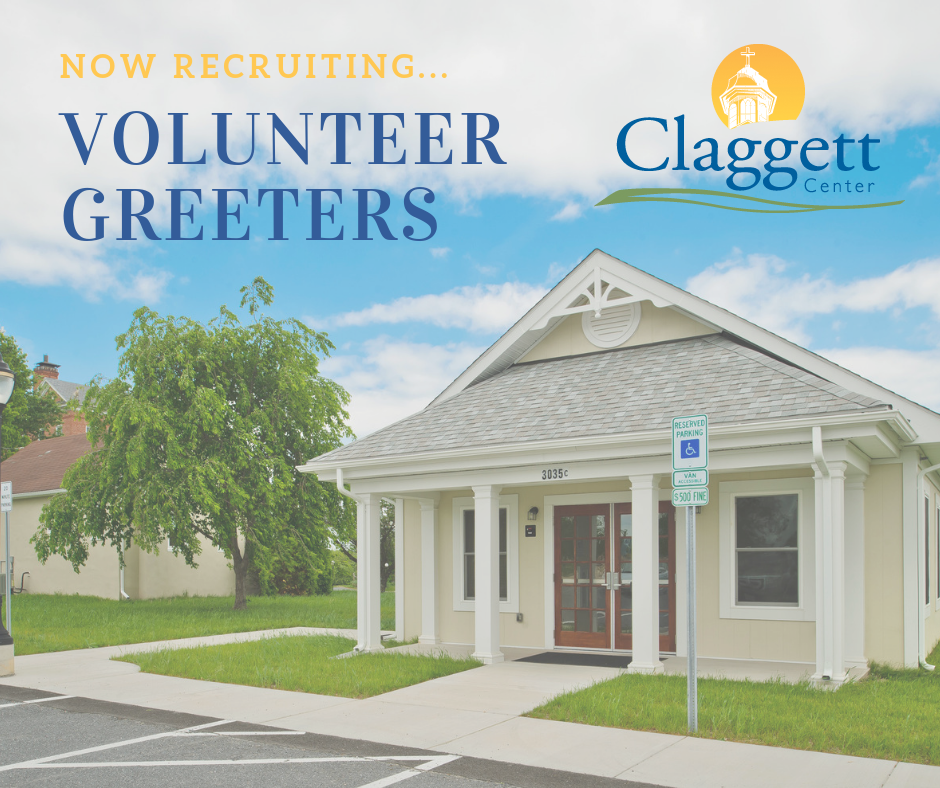 Full Time Positions
There are no full-time positions available at this time.
Seasonal Positions
There are no seasonal positions available at this time. Hiring for the 2019 summer season will begin in January 2019.

All accepted applicants are subject to criminal and child protective services background checks.